INTURA SUPPORTS REFOREST'ACTION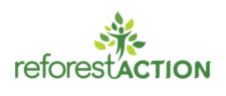 Environmentally friendly trips for the forest
Our hiking and biking trips are a green form of respectful travel. By moving to the slow rhythm of our footsteps or our pedal strokes, we take the time to observe the landscapes, to meet the local population and find our freedom of movement.


However, as eco-friendly as we try to make our trips, they do generate CO² emissions and we can never claim to be carbon neutral. Travelling to the starting point of the trip, the manufacturing elements necessary to the design of an electric bike, car rental for self-touring or a taxi transfer, printing of travel documents, use of GPS ... are all actions that create greenhouse gas emissions.


Even if these emissions are lower than any other form of travel, we wanted to commit ourselves to reducing the carbon footprint of our trips and compensate for the unavoidable CO² emissions for the successful completion of a trip.


We have therefore chosen to support Reforest'Action. Reforest'Action is a certified B Corp company whose mission is to offset carbon effects and preserve, restore and create forests in France and the world.


What is carbon offsetting?
We use the certified calculation method of the ADEME (French Agency for Environment and Energy Management) which is also used by Reforest'Action. We have calculated the average CO² emissions emitted by the transportation included on our hiking & biking trips and the number of trees necessary to absorb this volume of carbon.


For example, on a 6-day self-drive tour in France (with a rental car or with your own vehicle), the emissions are equivalent to 44 kg of CO² for your travel upon arrival in France and throughout the duration of the trip.
1 single tree planted can absorb this amount of carbon: this is why we have chosen to offer you a tree.


1 Intura traveler = 1 tree planted
At the end of your trip you will receive an e-mail. All you have to do is click on "I plant my trees" and follow the instructions.


You create your account and choose the forestry project you wish to support in temperate or tropical zones and virtually plant your tree.
You keep a trace of this tree on your account


In addition to the trees planted, your plantation contributes to the purchase of carbon credits.
For every 7 trees financed on the reforestaction.com website, one carbon credit is purchased by Reforest'Action.
These carbon credits are associated with a certified forest conservation project.


Your action therefore has a double impact :
forest preservation via carbon credits
+ the development of carbon sinks via tree planting



To go further
If you wish, you can also extend your action by purchasing and planting other trees through your Reforest' Action account. This way, you can contribute to reducing your carbon footprint on other services such as accommodation and consumption.