The Senanque Abbey, a walk in the religious history of Provence
Provence walking in the Lubéron: a little history of the Senanque Abbey
The Senanque Abbey was first built in the middle of the 12th century by Cistercian monks that came from the neighbouring area of the Ardèche. The patronage of the Lords of Simiane, enabled the monks to finance the construction of the Abbey's church and the community of monks grew considerably. Over the centuries, several extensions were added to the original building. The monks would work the land surrounding the Abbey and as the number of monks grew, so too did the produce from the land which led to a paradox : the monks who had taken the vow to live in poverty were now faced with the richness of the Abbey and its farming. This period of economic boom then saw a drastic fall in the number of monks choosing to join the Abbey.
In the 14th century, after years of monks leaving and no new monks joining, the Abbey found itself experiencing a decline in both devotion and discipline. Ironically, as the Abbey was getting poorer it was reverting back to the original word of the founding fathers, to live in silence and in poverty.
In the 16th century, with the religious wars raging through Europe, the Senanque Abbey was victim of an attack of an opposing belief: many monks were hanged, and the abbey was partly destroyed.
In the 17th century, only two monks were living in the Abbey. In 1791, the Abbey was sold as a "Bien National" during the French Revolution. At a time when such buildings were usually reconverted to suit the growing industries of the time or were destroyed and the stones and materials used to build other buildings, luckily, the buyer was keen to invest and improve the Abbey.
In 1857, the Abbey of Lerin purchased Senanque and the Abbey regained its initial use and functions and welcomed a congregation of 72 monks. A contract was later signed with the car manufacturer Berliet who financed the necessary repairs to the building.
Today, there are no less than 10 monks living in the Abbey, still following the rules of the founding fathers: the vow of silence and poverty.
Location
The Senanque Abbey is located just a few kilometres from Gordes in the Lubéron and there is a beautiful walking loop from Gordes to the Abbey, a popular circuit on our Provence walking holidays. During May and June, the fields in front of the Abbey are blooming with Provence lavender.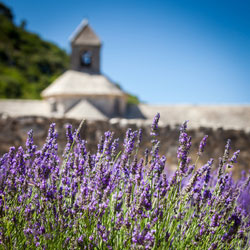 When is the Abbey open to public?
The Senanque Abbey is open to the public daily. Whether you would like a guided visit or would prefer to visit it on your own, it is a real highlight on your walking holiday in Provence. The opening hours can vary month to month, so we recommend checking ahead. It is also asked that visitors adhere to the lifestyle of the 10 monks living there and respect the solemnity of silence.
Our Provence walking tours and Provence cycling holidays in the Senanque Abbey and Luberon area