The Alpilles mountains, a small area of low mountain chain located in one of the westernmost parts of Provence is a great place to enjoy a beautiful and interesting Provence walking holiday. Thanks to its unique landscape and cheer beauty, that inspired the likes of Vincent Van Gogh, let yourself sink in the atmosphere of Provence, its history and environment.
But, what can you see and do when enjoying a walking tour in the Alpilles?
Visit Saint Remy
Saint Remy is one of the quaintness Provence villages thanks to its small city centre made of tiny shopping lanes, its great fruit and vegetable markets on Wednesdays and Saturdays. Its position, at the foot of the Alpilles makes this small city a top starting point for your hike in Provence. Its history dates back to the Antiquity. Its position in the south of France made it one of the most influential cities, at the time, in the south of France. You can still see today, at the archaeological site of Glanum, what this oppidum looks like thanks to the many ruins that have remained on site, in a relatively good condition. Other than Glanum, this city is also famous for its input in Vincent Van Gogh's art. In one of his most trouble period of his life, but also its most productive time, Vincent Van Gogh was amazed and inspired by the Alpilles as whole, its landscape, colours and fauna. Thanks to the Van Gogh trail in Saint Remy, you can discover where some of his most iconic painting were made, see where he lived and of course, visit Saint Paul de Mausole, where he admitted for a year.
Van Gogh's Provence
Artistically speaking, the Alpilles are where Vincent Van Gogh experienced an artistic breakthrough, as his most famous masterpieces were painted there, such as the Starry Night, Iris, the Sower and some of his self-portraits. Many areas and aspects of his life can be discovered in the Alpilles areas whether you go to Saint Remy or Les Baux de Provence!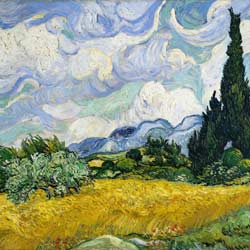 Les Baux de Provence
Certainly, the most incredible hilltop village in Provence, the villages of Les Baux is a must see when hiking in Provence. Thanks to its rich past history, as it was one of the most influential and strong villages of Provence in the Middle Ages, this fortified city is an incredible example of a Provence medieval village. Discover its castle, its narrow-paved streets, its many churches and protected monuments should definitely be on your wish list when travelling to Provence. Other than the village itself, you can discover the "Carrières de Lumières", an old bauxite quarry that is now a light show that projects paintings of some of the most famous and incredible paintings. In 2019, the theme of this light show is Vincent Van Gogh: it is therefore the best time to come to enjoy a Provence walking tour or a Provence cycling tour.
The Alpilles mountains is a great place to enjoy an adventure holiday!
Have a look at Intura's walking and cycling tours in the Alpilles mountains!