Memories of a Cape Verde walking holiday
Two years ago, I was lucky enough to be sent to Cape Verde for work. It was my first time visiting the archipelago and I what struck me the most was the different cultures, characteristics, and ambiance of each island. Not to mention the breathtaking scenery, a dense and lush vegetation and the contrasting lunar and desert-like landscapes, terraced crops, and the tall sharp peaks, the ideal playground for a walking tour in Cape Verde! Believe me when I say that these small islands in the middle of the Atlantic offer something for everyone.
Today, I wish to share with you the memories that I have from one of the hikes I did on the island of Santo Antao. With my walking boots laced up and my backpack on, I was sure to have packed everything I would need for the day including sun hat, wind-proof jacket, walking poles, camera, water and snacks: I was ready! A taxi picked me up from my accommodation and dropped me off at the start of the walk, up on the Cova crater. This crater is a dormant volcano that is adorned with plots of land cultivated by the locals. Already my camera was out, and I was snapping away at the beautiful landscape and I hadn't even taken my first steps!
The route notes for my self-guided walking holiday in Cape Verde led me along a paved path for quite a while until I reached the hamlet of Agua das Caldeiras where the path veered off to the right and I found myself entering a pine forest. It was a wonderful surprise and such a peaceful place, ideal for a rest or picnic in the shade of the trees. Before continuing along the trail, I fished out my sunhat as the sun was warm and the sky clear of cloud, which only added to the stunning scenery upon exiting the pine forest: views over the deep valley of the Ribeira da Torre, the Paul Valley, the mountain peaks and in the distance, the shimmering ocean. I could also make out the itineraries of the various hiking trails through the valleys.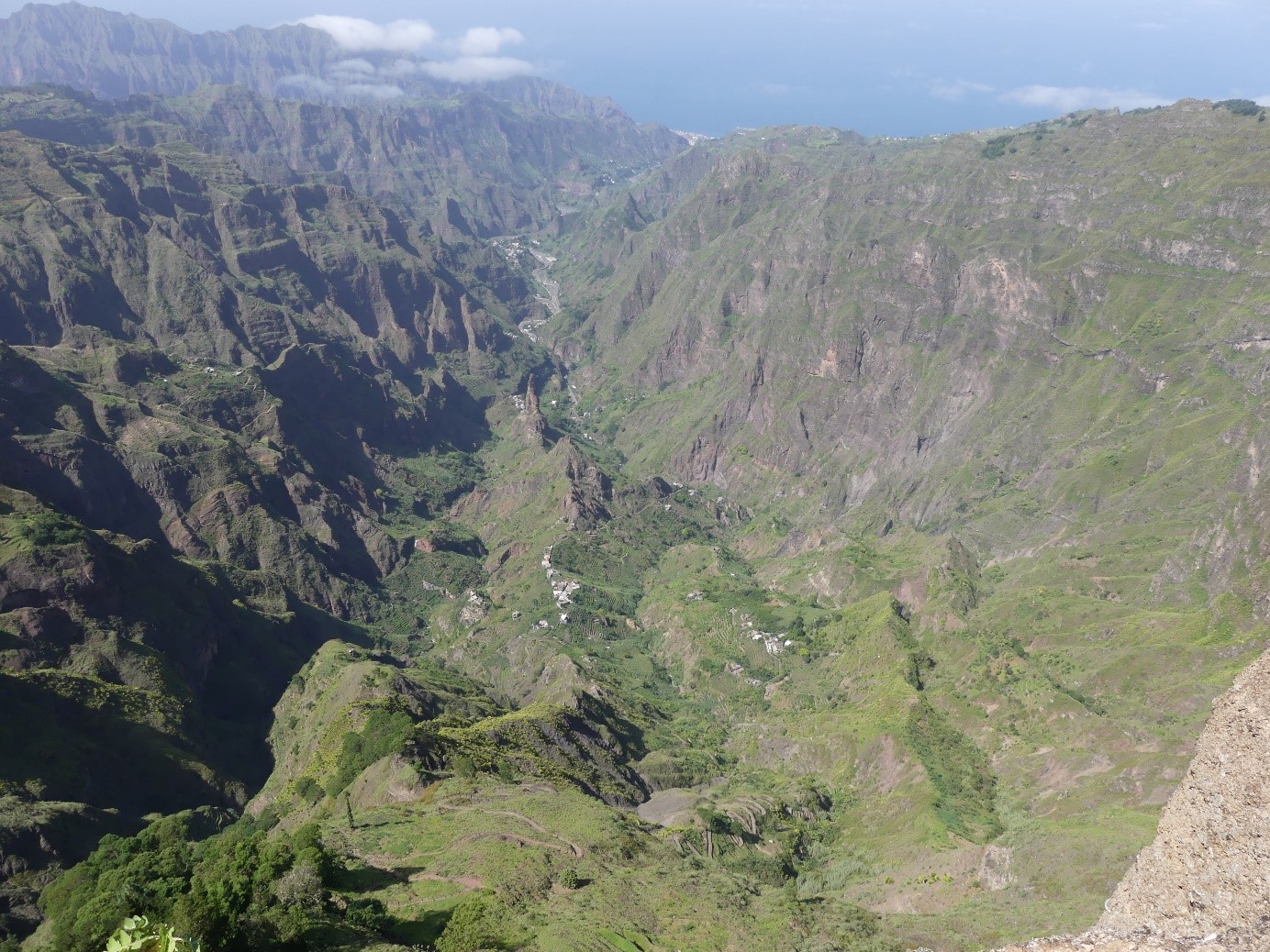 From here, I began a long descent along a zigzag path and arrived in a banana plantation where I decided to rest my legs a little before continuing the descent through a few villages where I was delighted to come across some smiling locals! I eventually arrived in the lovey village of Xoxo and carried on towards Marradouro, the end of the day's itinerary. And it was in this village that the taxi met me and drove me back to my accommodation. The end of a somewhat tiring but incredible Cape Verde walking trip.
Audrey, trip designer for Cape Verde, the Azores and Madeira
See our self-guided walking holiday in Cape Verde here