Our top 3 reasons to discover the beauties of Provence!

Provence, a south eastern region of France, famous for its cicadas, lavender and wine is one of the most visited area in France! Thanks to its incredible climate, history and way of living, "La Provence" is definitely a must-see when travelling to France! But why?
Why is Provence perfect for hiking and cycling?

1. An amazing landscape, perfect for hiking and cycling tours!
The Provence area is most certainly one of the best regions to enjoy a wonderful hike across its hills, mountains and plateaus. With the likes of the Luberon mountains, core area of Peter Mayle's "A year in Provence" book, famous for its unique landscape, mild micro-climate and picturesque villages - the most famous ones being Gordes, Roussillon and Bonnieux - and also the Mont Ventoux, nicknammed the "Giant of Provence", considered as one of the hardest "Tour de France" stage. If you are into all-level hiking and cycling strolls across wonderful scenaries, this will be heaven on earth for you! Lavender fields in summer (from mid-June to mid-July) are a breath-taking sight: an ocean of purple fields, bathed in the sunshine of Provence and ofter surrounded by sunflower fields is a once of lifetime experience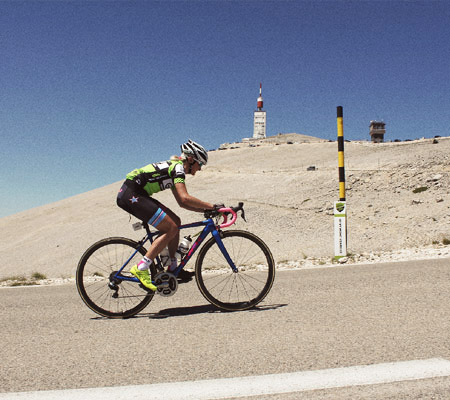 2. From Ancient history to Modern days, a hike through Provence's history!
From the early ages of Greek and Roman settlements, like Marseille and Arles to the thriving current cities, Provence has a lot of history and cultural heritage for you to discover. Walking along the ramparts of the papal city of Avignon, hiking in the Alpilles and the Roman site of Glanum, next to Saint-Rémy-de-Provence, discovering the differents forts of Marseille and the ancient towns and city centres of Aix-en-Provence is a perfect way to understand the rich history of this particular region of France.
3. The quality of life:
An adventure in Provence, by foot or on by bike, is a wonderful way to understand how the locals live. With a wonderful weather all year round, very hot in summer and mild in winter, the Provence region can be seen a perfect place to live: sun, sea and mountains, an explorer's dream land! The cuisine that you can enjoy in Provence are various as many cities have their own speciality! The beautiful wines that are made in Provence, considered as some of the best in the world - with the likes of the Chateauneuf-du-Pape and Côte du Rhône wines - are the cherry on the cake! Sunshine, hikes and cycling adventures, unique sceneries, good food and exceptionnal wines: Provence, a thrilling holiday destination!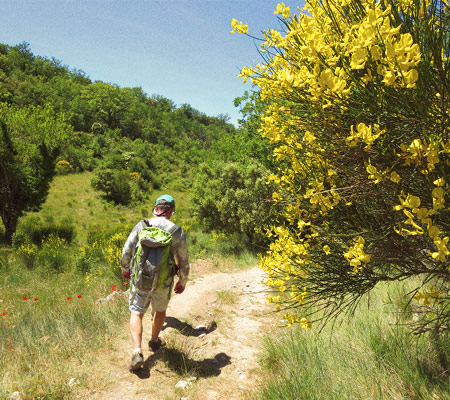 A cyclists' dream destination:
With its hilly terrain, during your Provence cycling holiday you will most certainly ride through some of the most emblematic valleys and hills of Provence, such as the Alpilles, where Van Gogh was strongly influenced by the landscape, colours and luminosity of this area; you will also ride through the Luberon, home to some of the most beautiful villages of France such as Gordes, Roussillon, Apt and many more.
However, the summit that attracts many cyclist is without doubt the Mont Ventoux, nicknammed the Giant of Provence. Certainly one of the most iconic stages of the Tour de France and possibly one of the most difficult one, cycling up to its summit is the chance to test and push yourself! Only experienced cyclist should go for it though: most of its stages are 9% climbs or over!
Provence ornithology trips:
Thanks to its very close proximity to Camargues, Provence is a highplace for birdwatching tours: indeed, in the famous Camargues, one of the first French Nature Parks, it is identified as Important Bird Area (IBA) and is only of the only area in Europe where Greater Flamingoes can nest in optimal conditions. With the likes of many birds, a unique fauna and flora, Carmargues is a great place to enjoy a Provence ornithology trip!

Freel to give an eye at our Provence cycling tours and Provence walking trips!