Day 1 - Arrival in Nice on the French Riviera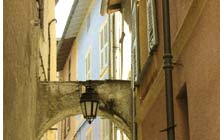 Nice > La Brigue
You arrive on your own in the timeless village of La Brigue - by train - nestled in the mountains near the Italian border, with its beautiful architecture and its centuries-old homes with colourful façades. The village traded its Italian flag for a French one in 1947 and much of this valley is bathed in a Franco-Italian fusion of language, food, and culture.
Dinner included & night in La Brigue
MEALS included: Dinner

We recommend:


Have an extra night in Nice and enjoy the lovely old town !